The only game of its kind in Europe, FootBowl Dublin combines elements of football, bowling and more in a new fun activity. The game is played by two or more people and is great for families, groups stags, hens and team building. Inspired by tailgate party games that are played before American Football games, FootBowl is great entertainment that will have you hooked from  start to finish. Throw like Superbowl winning quarterback Peyton Manning or kick like Barcelona legend Lionel Messi – The choice is yours!!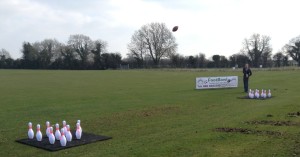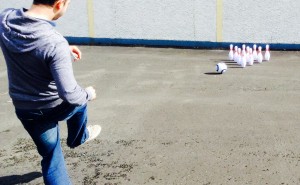 Prices for 2016
€12 per person – 30 minutes (minimum 2 people)
Now available at
Newcastle Golf Centre Dublin, Peamount Lane, Newcastle, Co Dublin –
Golf, Driving Range, FootBowl, Golf Lessons,

Laser Clay Shooting now available!!! 
Booking is required, to book tel: 086 8383700. Email: ngct5441@gmail.com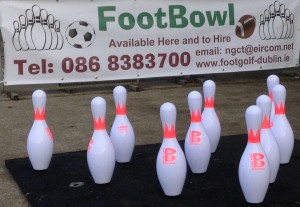 How to Play
Choose your ball-American football or soccer ball.
The aim of the game is to kick or throw the ball from the marker and try to knock down your opponents pins. Any kicking or throwing style can be used.
A match is made up of frames. A frame is completed when all the pins are knocked down. The team that knocks down all their opponents pins first wins the frame. The team that wins the most frames wins the match. A match is made up of 5 frames.
In the final frame, if the player that is losing, is making the last kick/throw and knocks down all 10 pins the game is tied no matter what the score is from the previous frames. The match then  goes to a play-off.
Play-off: A single pin is placed on the lane. The first person to knock the pin down wins the match.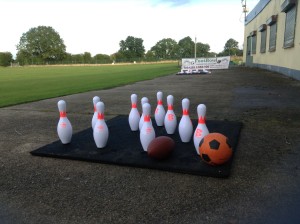 Rules
Each player has 20 seconds to throw/kick the ball. The 20 seconds starts from when the opposing teams kick/throw has come to rest. PENALTY: Opposing team regains possession.
Players must kick/throw from behind and between the markers. PENALTY: Opposing team regains possession.
Players cannot interfere with the kickin/throwing of the ball or interfere with the ball contacting the pins. PENALTY: Opposing team regains possession
Hire FootBowl
FootBowl can be hired and brought to your location. Available for birthdays, weddings, event days, team building days and more. All equipment is supplied including pins, balls, scorecards, markers delivery and set up in Dublin and surrounding Counties.
Half Day Hire €299 (4 hours)
Full Day Hire €449 (8 hours)