So you've made the decision to get married. Now for the important decision…what to do for the stag or hen party in Dublin?
We've got the answer….
FootGolf at Ballybane FootGolf Dublin.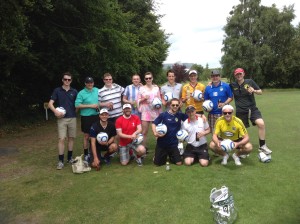 Try the most fun sport in the world, FootGolf!  FootGolf is played on a golf course with the aim to kick a football from the teeing area and into the hole in the fewest number of kicks. It can be played by all skill levels and all fitness levels, you don't have to be a Premier League footballer or Professional golfer to play the game and it takes less than 90 minutes to complete the course.
At Ballybane FootGolf Dublin we've had stag and hen parties from all over Ireland – Dublin, Cork, Kerry, Galway, Sligo, Wexford, Kildare, Meath, Westmeath, Waterford,  Carlow, Kilkenny, Donegal and more- and from overseas – Scotland, England, Wales, Germany, France, Hungary, Belgium and even the USA, Argentina and Brazil!
The course is located only 25 minutes from Dublin City Centre and only 25 minutes from Dublin Airport. It is easily accessed from the N4 (Lucan exit), N7 (Grange Castle exit) and M50 motorways and only minutes from Lucan and Clondalkin villages. Whether you are travelling from Howth or Hollyhead, Kinsale or Killkenny, Ballybane FootGolf is well located in Dublin.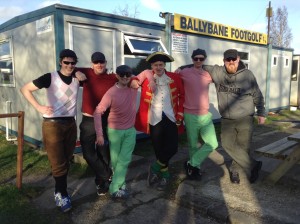 Looking for food after the game? No problem. We can order food for you from the local takeaway with pizzas, chips, burgers and more available. Just let us know before you start if you want us to order food (deposit payment required before ordering). We also have a selection of sweets and refreshments available at reception. For a hen or stag it may be preferred to go to a restaurant or pub for food, if so we can recommend somewhere for you if you need some help.
We do not have a strict dress code but if there is a particular unusual theme you are going with could you let us know, we may take some pictures for our Facebook page and website!! We want you to enjoy the day and would only ask that you respect any other footgolfers on the course.
For fun days out, choose Ballybane FootGolf, the number 1 activity for stag and hen parties. If you require more information, directions or have any other requests please let us know.
Tel:         00353 86 8299585
00353 1 6280413
Email:    ngct@eircom.net